Description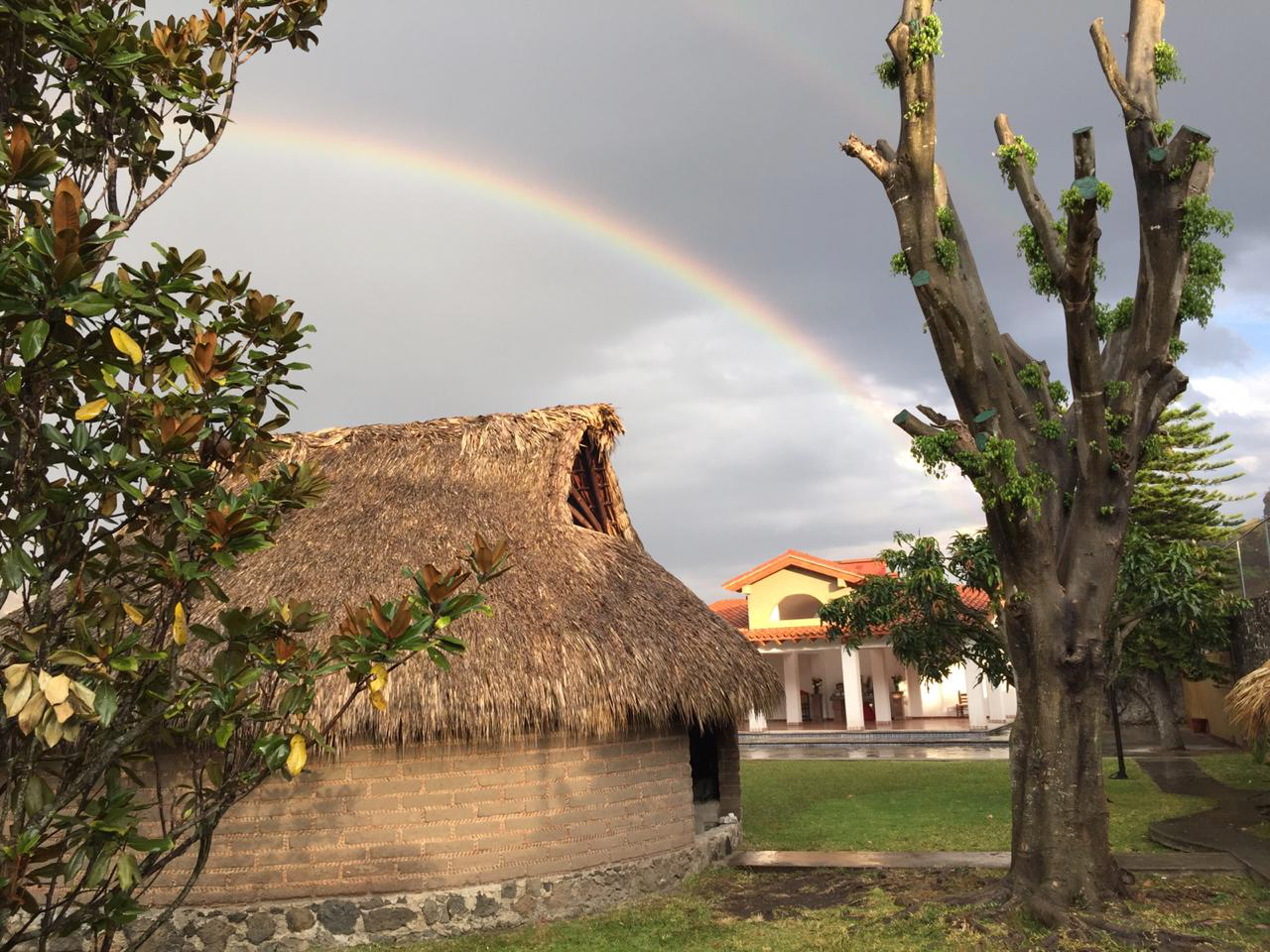 THE TUKI FIESTA
and
Mara'akame Initiation Fiesta for Brian Collins
At Casa Xiuhtecuhtli in Tepoztlán, Mexico
September 8-12, 2022
From the Sacred Story of How the Tuki was Born
The people had come to the edge of the sea, to Yuuwita, the place of darkness, the place where Tau, the Sun disappears. As Tau rose again in the east, He sent a message arrow. Kauyumari, the deer-person, listened closely to the arrow to see what it had to say. Kauyumari then called the greatest singer-shaman (a tsaurirrikame), the singer that could sing and learn the will of the Gods. This was Tatewarí and He emerged from the fire in all of His glory of costume and feathers. He sat in His shaman's chair (Uwéni) and after resting announced that the Sun had commanded that a temple be built, a Tuki, where the people would gather. And here the Sun would be invited along with Tate Haramara, Grandmother Ocean; Takutsi Nakawé, Grandmother Growth; Yurianaka, Mother Earth; Tatótsi Márakawári, elder brother deer-tail; and all the Gods of the seasons, the rains, the sky, and the stars. And here the people would create a great fiesta with many offerings to celebrate the presence of the many Gods and the help that all of those present would receive. Different people were chosen by Tatewarí to carry the offerings for the gods in special devotional bowls (jícaras) as Jicareros. And the Tuki, now alive, would be fed and honored for hosting all.
You have been invited to be a part of a three-day ritual fiesta held in the Wixárika (Huichol) tradition. Please join the Grupo Tatewarí Mara'akate at the ceremonial center of Casa Xiuhtecuhtli in the mountains and beautiful village of Tepoztlán, Morelos, Mexico (2 hours south of Mexico City).
What is a Tuki Fiesta? An ancient ritual of the Wixárika (Huichol) culture is to feed the Tuki, the ceremonial-temple home for the Gods. The essential nature of the Tuki reflects the cosmos, in every aspect of its construction and its spirit. This fall will begin a new traditional five-year ceremonial cycle of Fiestas. The Tuki is a living treasure that nourishes and feeds our people and connection to the world.
Five guardian elder mara'akate, Jicareros, are chosen by Tatewarí and supported by elder tsaurirrikame-singer don José Sandoval to host the Tuki Fiesta for this next ceremonial cycle of five years. They each carry the jícara, a gourd bowl holding the offerings, to the most sacred site of the Wixárika tradition, the Birthplace of the Gods, and on behalf of the community, they ask for blessings and healing to be bestowed upon the attendees. As in the beginning, at the Fiesta this September the singer will sing and listen to the will of the Gods.
It is typical for many sacred events to occur on this occasion. The Jicareros are honored to share with you the second initiation of Mara'akame Brian Collins.
What is a Mara'akame Initiation Fiesta? Following in the footsteps of the ancestors of the Wixárika tradition, an apprentice who has successfully completed years of pilgrimage bringing special offerings to the sacred sites and fulfilled obligations to the Gods will become a candidate for initiation. Initiation is an important point of acknowledgement and test of their conviction, discipline, dedication, devotion and achievement. They do this so they may serve their people as a mara'akame, a traditional shaman, with their gifts of healing, ceremony, counsel and community leadership.
The Tuki at Casa Xiuhtecuhtli - In 2006 in response to Grupo Tatewarí's growing relationship and dedication to the Huichol tradition, the Tuki was built on the grounds of what is now called Casa Xiuhtecuhtli, House of Fire. The Wixárika people and the Gods granted this gift through elder don José Sandoval de la Cruz by producing a ceremonial consecration of the first Tuki outside of their homelands of the rugged western Sierra Madre mountains of Mexico. This was unprecedented.
Tatewarí, Grandfather Fire, has distinguished this ceremonial center as a "Principal Tuki" and over the years it has become a home for many local and international gatherings, teachings, healing work, and ceremonies.
Feeding the Tuki – After a long pause due to the pandemic, Elder tsaurirrikame-mara'akame don José Sandoval de la Cruz from La Laguna, Jalisco and representatives from Tateykie, San Andrés Cohamiata, Jalisco will travel once again to Casa Xiuhtecuhtli to begin the next five-year cycle of feeding the Tuki to ensure that the Gods receive our offerings and therefore all receive miracles from our lives.
We are honored to present this invitation to you to participate in this sacred event of gathering, connection, and ritual.
To RSVP, click one of the buttons below. Registration is limited and is required by August 24, 2022. Children are welcome, though please be aware that all attendees are required to participate and stay on the tuki grounds during the day. There will also be several late nights including one Grandfather Fire. All meals will be served on the Tuki grounds and there will be time to return to your hotel to sleep and freshen up.
DETAILS YOU WILL NEED TO KNOW
Dates and Travel: Arrive to Mexico City Airport on September 8 by 3 pm, Depart September 12 after 12 pm. Please make sure that you have a valid passport and book your flight before registering.
Pricing: Prices include lodging, food and ritual fees, including a Grandfather Fire.
Adult Guest, 9/8 - 9/12: $590
Child (age 5-15), 9/8 - 9/12: $100
Child (under 5 years): Free
Apprentice/Boon Pilgrim/Spouses (arrive early, depart 14th): $775
Mara'akame (arrive early, depart 14th): $925
Ground transportation: You will have the option to register for ground transportation from the airport to and from your hotel. If you select this option, our transportation coordinator will be in touch with you around scheduling and costs. Cost is usually $35-50USD plus 10% tip per person per trip, but will vary depending on how many people are in your shuttle.
Accommodations: We will provide housing for all guests in shared rooms. All lodging is within a short distance from the Fiesta venue.
Food: All meals are catered, delicious and include gluten and dairy-free options. We also offer the option of a vegetarian diet.
COVID: Given high COVID infections lately, we are making efforts to ensure nobody brings the virus into the Fiesta. You are expected to follow event COVID-19 Guidelines as written HERE (please click to download). Guidelines include protocols for avoiding COVID before you travel, testing before arrival and masking when with others who are not part of the Fiesta group.
Schedule: Our time together for this sacred ritual will include time to slow down and connect with each other and the natural world. Please note, we will follow a schedule solely focused on the Initiation Ritual during the three days (and nights) of ceremony. All registrants will be expected to engage in the schedule. Of course there will be time allowed for sleeping and self-care.
Attendance at the Fiesta is by invitation only. If you have received an invitation and would like to attend, please RSVP yes, register and pay on-line by August 12th.


(if the button above doesn't take to your email program, please RSVP by emailing tepozfiesta@gmail.com)

Once you register, you will receive an email with other important information relating to travel, lodging, what to bring, etc. If you have further questions, contact our registration coordinator, Heidi Griswold at tepozfiesta@gmail.com or 801-363-7500.
Cancellation Policy: If you cancel your registration before August 22nd, there will be a 50% refund. If you cancel your registration after August 22nd, unfortunately we cannot offer any refund. If you cancel due to COVID at any time, we will do our best to offer a partial refund.
If you test positive for COVID or are exposed to COVID within 5 days before the Fiesta call Linda Felch (717) 668-3175.
**We want to extend special thanks to the Blue Deer Center for their support, services and cooperation in helping make this event available.**